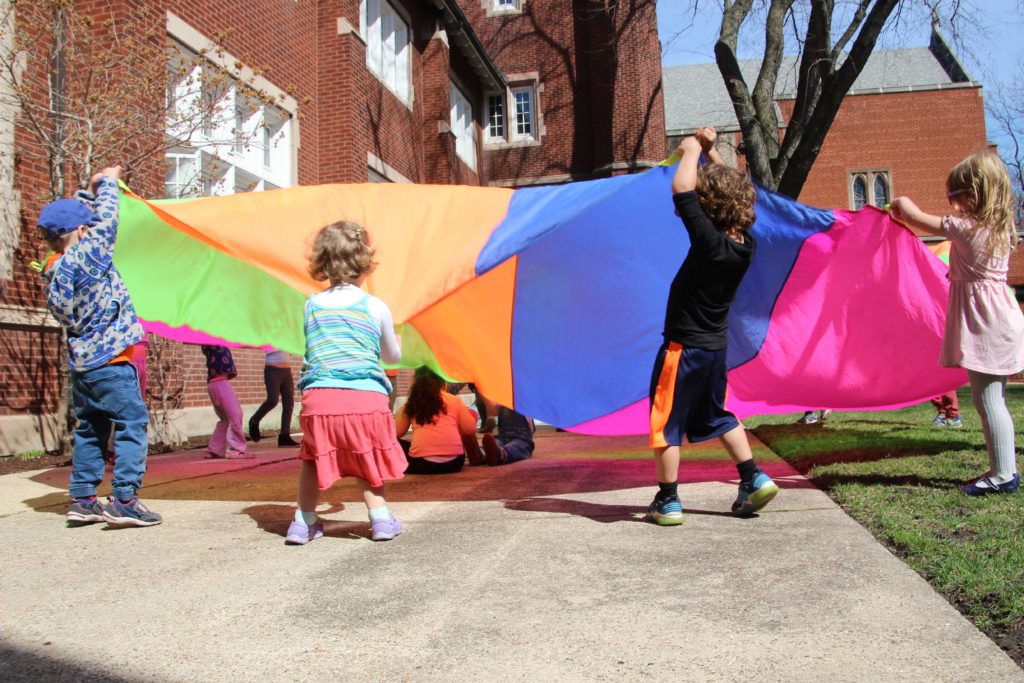 Aftercare runs Monday through Thursday from 3:30 to 5:30 p.m. beginning the second week of school in September and running into the last week of the school year in May. There is no Aftercare when the entire school is closed or when afternoon classes are not in session due to Maples/Oaks parent teacher-conferences.
Program Elements
The program, taught by a lead and an assistant Aftercare coordinator on Monday through Wednesday and a lead coordinator on Thursday, takes place in the FTCNS back classroom space and includes time for outdoor/gym play, art activities, a story, a snack, and rotating play experiences. There are spots for up to 14 students on Mondays, Tuesdays and Wednesdays, and 7 students on Thursdays.
Drop-off/Pick-up
Aftercare students enrolled in our afternoon classes can begin at 3:30 p.m. (after Maples) or at 3:45 p.m. (after Oaks) and can be registered to stay until 4:30 p.m. or 5:30 p.m. Aftercare staff will pick up afternoon students from their classes and bring them to Aftercare. Students who are at least 3 years old and in the morning classes are also welcome to participate in the program.
Pick takes place in the back classroom. Families of students who are registered for 4:30 p.m. pickup will be charged an extra $10 per day for pick up after 4:35 p.m. The regular class late pick up policy and fees detailed in the Parent Handbook will apply for late pick up after 5:30 p.m.
Cost
Full-year registration cost will be $15 per day for pick-up by 4:30 p.m. and $20 per day for pick-up by 5:30 p.m. Drop-in students pay $20 per day no matter when pick-up occurs.
Snack
FTCNS provides a nut-free cereal or granola bar as a snack. Students are welcome to bring extra nut-free snack items if desired and should always bring a water bottle from home. To prevent germ-sharing and protect our students with food allergies, students are not allowed to share food and all students must wash hands before and after eating.
Enrollment/Drop-Ins
To guarantee availability, we encourage families to register for their preferred Aftercare days for the entire year. However, drop-ins are welcome if space allows. A drop-in schedule will be made available at the beginning of the school year.
Eligibility/Readiness
Aftercare students need to be at least 3 years old to participate. To be able to thrive in Aftercare, students will need to be comfortable with transitions and different groups of kids, confident in using the bathroom independently*, and able to handle being away from a parent/caregiver for a longer time than our regular class length. Many of our youngest students who are new to the school may not be ready for Aftercare at the beginning of the school year, but we hope to welcome them later in the year. If you have any questions about your child's readiness, please contact Laura Pinsof at director@ftcns.org.
*If your child is developmentally ready for Aftercare, but not yet toilet trained, we may be able to accommodate them. Please contact Laura Pinsof to discuss.